Rosewood Research
Innovation in Baking and Grain Foods
Rosewood Research Pty Limited is a self-funded research facility based in North Ryde, Sydney, Australia. Our aim is to promote innovation within the baking and grain foods of Australia. We are an independant organisation offering funding and partnership arrangements to academic institutions and commercial enterprises for research that engenders new ideas and advances in baking and grain foods. We welcome industry relationships ranging from collaboration with Artisan bakers and Artisan millers to partnering with PhD students, Food Research managers, Food Technologists and associated members of the AIFST in the quest to innovate. At Rosewood Research we support new product and process development and long term projects that improve the health outcomes for Australians. We provide a structured approach to baking and grain foods innovation with research funding, project management skills and help with the provision of funding arrangements, IP management and non-disclosure agreements. Our vision is to support the constant innovation of baking and grain foods - develop the future with us.
Our Partnership Program
The Rosewood Research Partnership Program is central to the mission of Rosewood Research. As an independent self-funded organisation, our primary aim is to fund ambitious scientific research that harnesses the talents of innovative Australians.
Cereal grains such as wheat, oats and rice are crucial ingredients in the daily food intake of all Australians. Our multi-cultural population enjoys a vast variety of foods derived from cereals that originated far from Australia's shores. The ongoing challenge for our industry is to continue to research and develop these foods taking into account the soils and changeable climate of the Australian continent, the health and lifestyle choices of our population and the possibilities of cereal grain food sources that are as yet unrealised.
It is our hope that the Partnership Program will aid the ambitious curiosity of the next generation of Australia's grain food scientists and equip those trailblazers with the facilities and collaborative support to bring to fruition their visions. Research proposals for funding should be submitted in detail with a specific rationale that explains how the concept meets the ethos of Rosewood Research and our aims and principles. Further particulars on the available funding and the simple processes and documentation requirements for Partnership applications can be found on our site and by directly contacting our offices.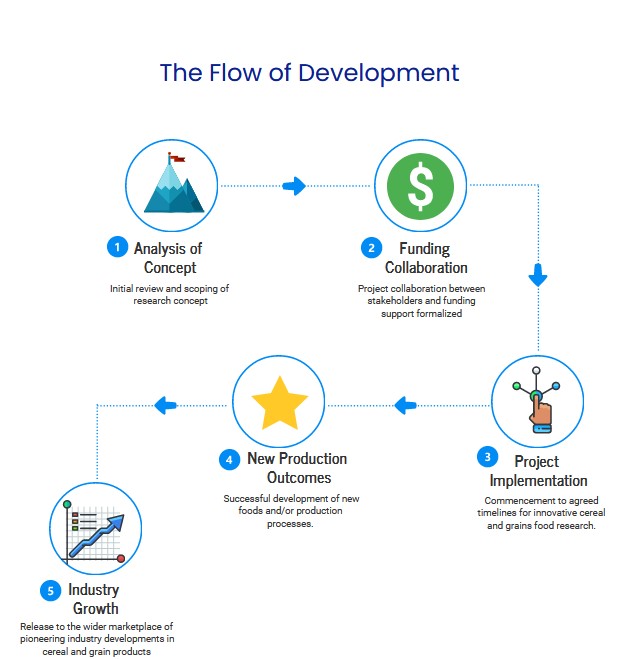 Partnerships for Progress
Collaboration for knowledge
Rosewood Research is committed to a culture of research and development for the Australian baking and grain foods industry. We encourage individual academic researchers, educational institutions and grains food industry enterprises to reach out to us with their concepts and creative ideas. Our Research Director, Bill Hazard, is an industry veteran with more than thirty years experience as an executive and marketing expert within the leading baking and grain food companies in Australia. Bill has also held management positions within government entities focussed on the development and marketing of Australian grain foods.
The Rosewood Research Partnership Program managed by our Research Director is dedicated to the purpose of increasing the scientific knowledge of the industry. Applicants to our program should address that key criteria of how their concept will further research and gainful knowledge in the baking and grains food industry. To aid our selection process we ask prospective applicants to submit a costed proposal with the key aims, detailed research description and projected outcomes documentation. At Rosewood Research we are truly excited to offer our independent and self-funded research expertise to further this critcal Australian food industry. We look forward to future partnering collaborations that will enhance the agricultural and product knowledge of the baking and grain foods industry and benefit the health of people, both localy and internationally.